100mm Ceiling Speaker ABS Grille (Rubber Grommets)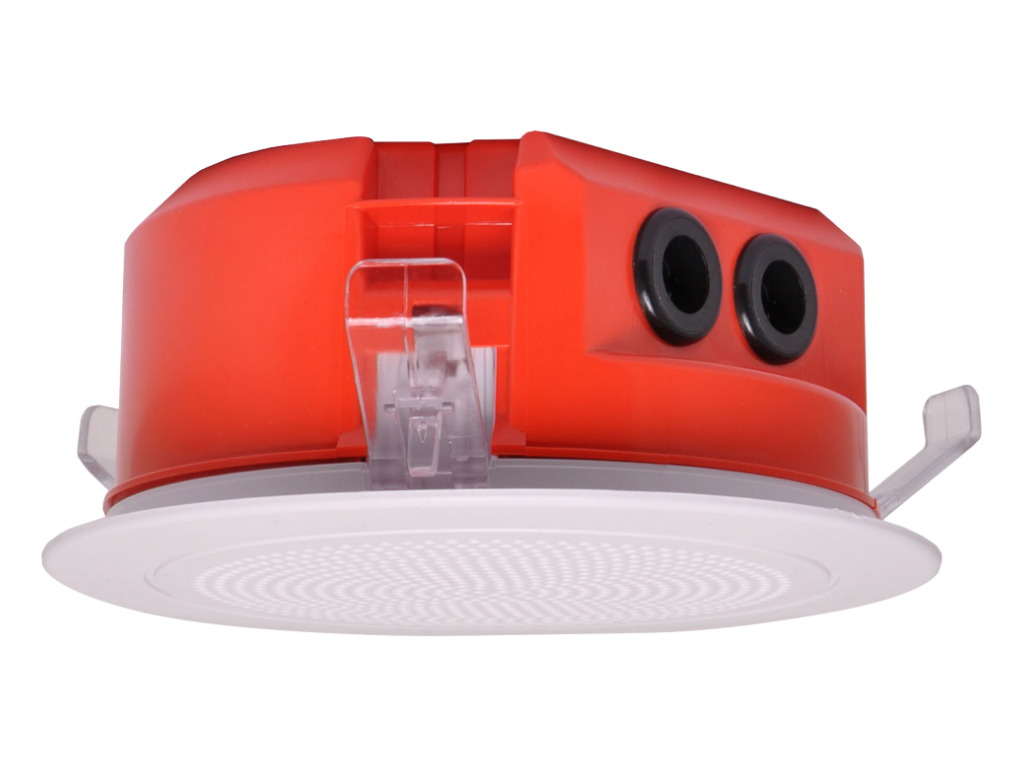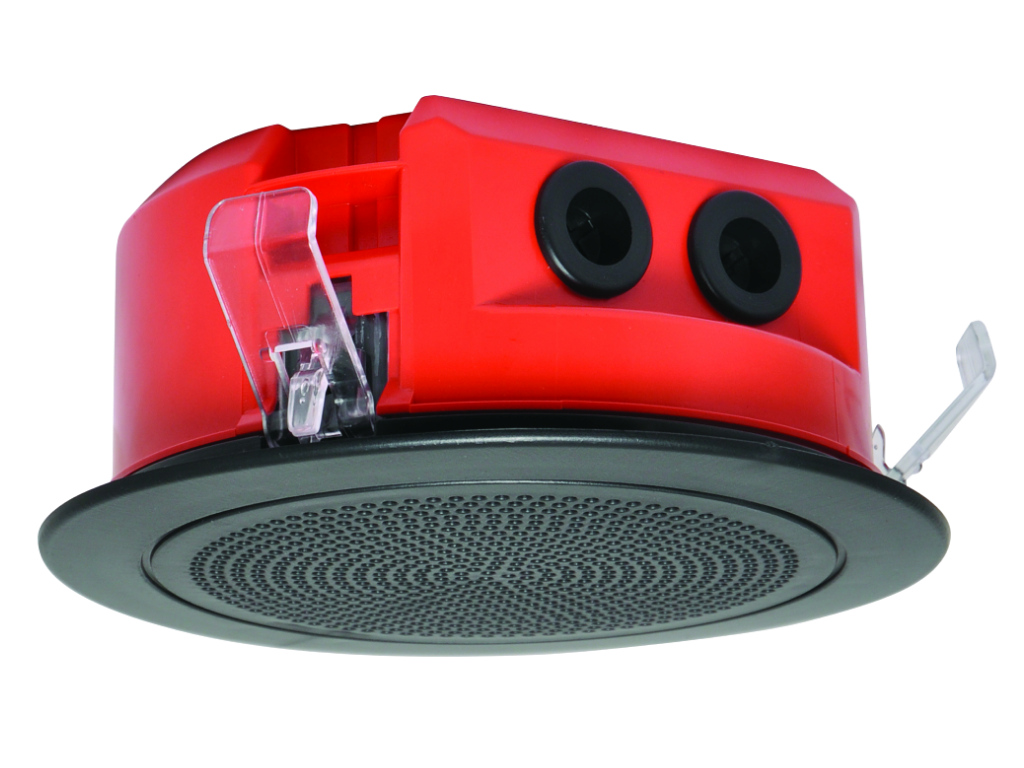 The ceiling mount speaker is certified to the AS ISO 7240.24 standard for fire and evacuation announcements in buildings.
Each speaker is fitted with a fire retardant speaker/transformer dome and is fitted with rubber grommets and terminal blocks for easy on-site termination. The speaker utilises the One-Shot 'snap-fit' mounting system.
Low profile design.
Excellent speech intelligibility.
Fire-resistant ABS plastic dome.
High-quality speaker driver.
Rubber grommets supplied.
Approvals: AS ISO 7240.24:2015

Rated Noise Power
5 Watts (100V line)
Power Taps & Impedance (100V line)
0.33W (30kΩ), 0.66W (15kΩ), 1.25W (8kΩ), 2.5W (4kΩ), 5W (2kΩ)
Sensitivity
96dB (5W @ 1m), 84dB (5W @ 4m)
Maximum Sound Pressure Level
96dB (5W @ 1m), 84dB (5W @ 4m)
Frequency Response
100Hz - 15kHz
Coverage Angle (-6dB)
1000Hz: 180°, 2000Hz: 160°, 4000Hz 75°
Environmental Type
A (for indoor applications as per standard)
Speaker Component
100mm (4") paper cone speaker
Mounting Hole
140mm Ø
Mounting Method
3 x plastic spring loaded clip
Line Monitoring
Yes, 22μF bipolar capacitor
Applicable Cable
2.5mm² (14AWG) max conductor area
Connection
4 way screw terminal
Finish
White or black flame retardant ABS grille (Taitalac 8540T)
Clear Flame retardant ABS spring clips (Makrolon 6557)
Red flame retardant ABS trans-former dome cover (Starex VH-0800)
Dimensions
159mm Ø x 65mm D
Weight
 710 grams
| | |
| --- | --- |
| 4113-1054 | Ceiling Speaker White ABS Low Profile Grille |
| 4113-1055 | Ceiling Speaker Black ABS Low Profile Grille |