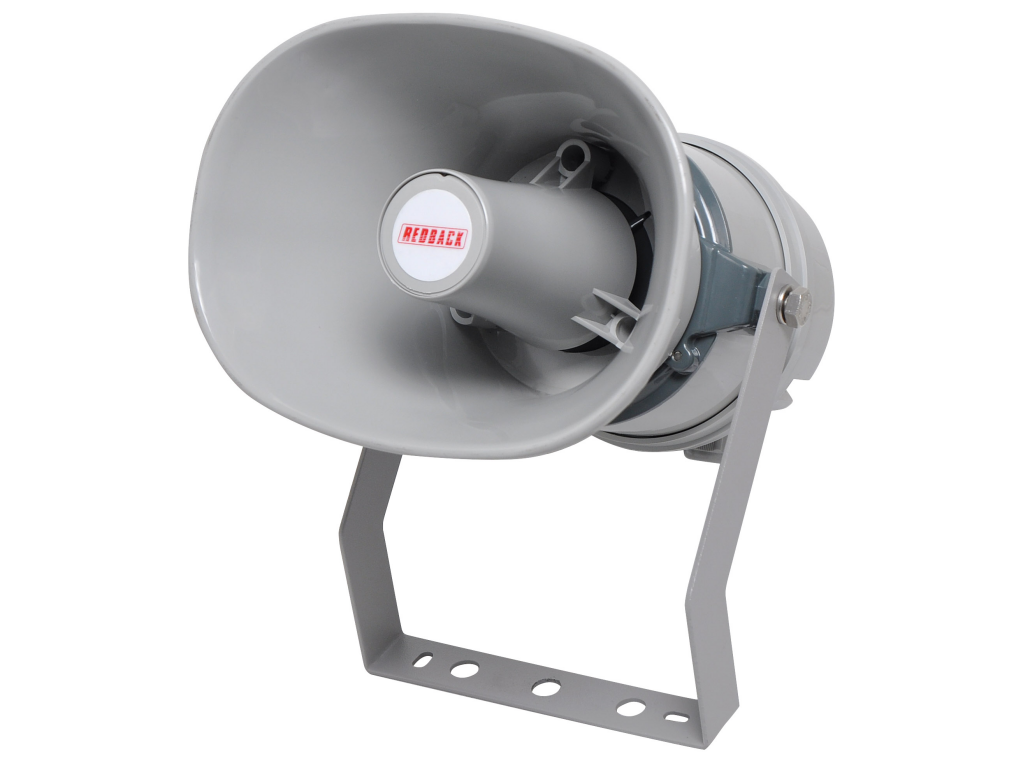 The 10W Horn Speaker is certified to the AS 7240.24 standard for fire and evaluation announcements in buildings. 
They can be used for fire and evacuation systems where a high degree of speech articulation and program clarity is paramount.
Typical applications include schools, train and bus stations, airports, carparks, and plant rooms.
The speakers utilise a twist lock cap mechanism to reduce installation time during cable termination and are available in three colors. 
High degree of speech articulation.
Reduced installation time.
Available in three colours. 
Approvals: AS ISO 7240.24

Rated Noise Power
10 Watts (100V line)
Power Taps & Impedance
1.25W (8kΩ), 2.5W (4kΩ), 5W (2kΩ), 7.5W (1.33kΩ), 10W (1kΩ)
Sensitivity
Horizontal: 104dB (1W @ 1m), 92dB (1W @ 4m)
Vertical: 103dB (1W @ 1m), 91dB (1W @ 4m)
Maximum Sound Pressure Level
Horizontal: 112dB (10W @ 1m), 100dB (10W @ 4m)
Vertical: 112dB (10W @ 1m), 100dB (10W @ 4m)
Frequency Response
Horizontal & Vertical: 100Hz - 12.5kHz, 500Hz - 6.3kHz 0±5dB
Coverage Angle (6dB)
Horizontal: 500Hz: 95°, 1000Hz: 120°, 2000Hz: 90°, 4000Hz: 40°
Vertical: 500Hz: 130°, 1000Hz: 130°, 2000Hz: 115°, 4000Hz: 55°
Environmental Type
B (for outdoor applications as per standard)
Speaker Component
Aluminium voice coil former
Mounting Depth
259mm
Mounting Method
Wall bracket with mounting holes
Line Monitoring
Yes, 22μF bipolar capacitor
Application Cable
2.5mm2 (14AWG) max conductor area
Connection
4 way screw terminal
Finish
Flame retardant ABS (Absolac 300)
IP Rating
IP66
Operating Temperature
-20°C to +50°C
Weight
1.4kg
| | |
| --- | --- |
| 4113-1025 | Horn Speaker 10W 100V Grey |
| 4113-1026 | Horn Speaker 10W 100V Black |
| 4113-1027 | Horn Speaker 10W 100V White |