VXB-VC Ceiling Visual Alarm Device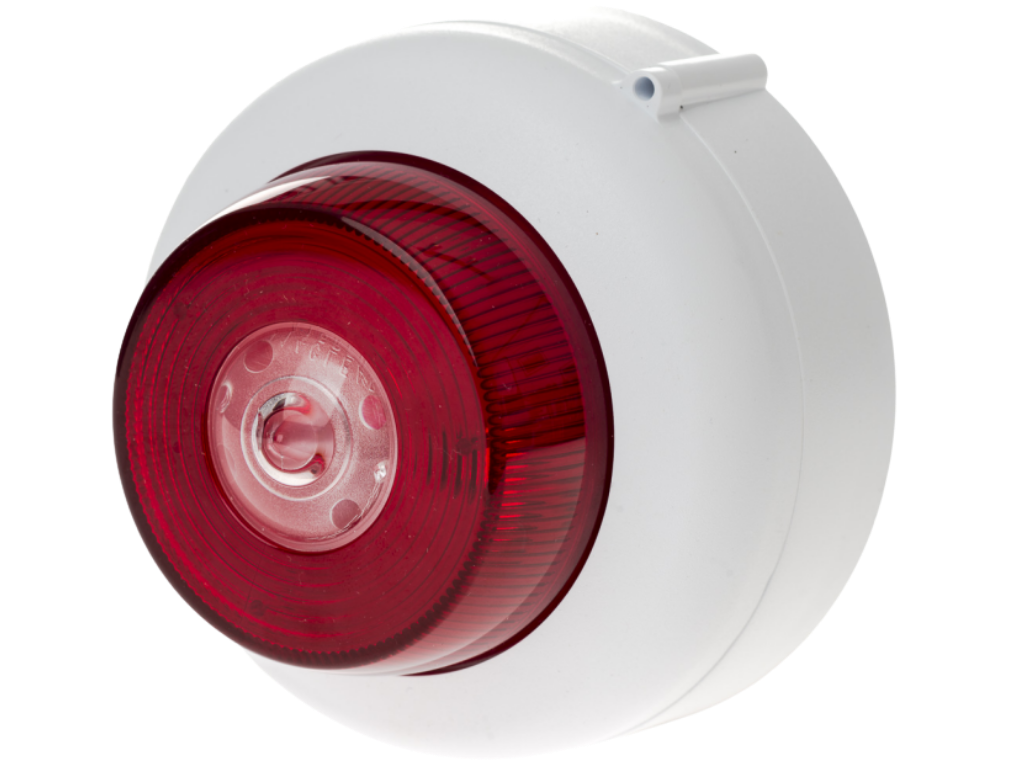 The VXB-VC Ceiling Mount Visual Alarm Device (VAD) beacon is part of the Vantage family of products and has been designed for fire alarm system applications.
The Visual Alarm Device (VAD) is available in white or red flash and has been approved at 1 Hz flash rate at C-3-8 (white flash) and C-3-7 (red flash) coverage range. A non approved, switch selectable 0.5Hz flash rate with C-3-4 coverage is also available.
The VXB-VC is available with a red or white body incorporating a  shallow or deep mounting base.
1 Hz Flash rate
White flash C-3-8, Red flash C-3-7 coverage
Shallow body IP21C and deep body IP65C
Unique twist & lock bayonet mounting
Body colour options - Red and White
Removal cover on deep base for surface wiring
Designed to work with conventional alarm circuits
Base locking mechanism
Synchronisation between devices
Approvals: AS ISO 7240.23:2014

| | |
| --- | --- |
| Voltage | 18 to 30Vdc |
| Current Consumption (24 Vdc) | 25mA (7m & 8m flash rate); 15mA (4m flash rate) |
| Flash Rate | c.1 Hz and 0.5Hz |
| Beacon Coverage | C-3-8 white flash; C-3-7 red flash; C-3-4 white & red flash |
| Temperature | -20°C to + 70°C |
| Monitoring | Reverse polarity |
| Protection Rating AS7240-3 | Shallow - IP21C; Deep - IP33C |
| Protection Rating BS EN60629 | Deep - IP65C |
| Dimensions | Shallow - Ø 94mm x D 68mm; Deep - Ø 94mm x D 86mm |
| Body Colour | Red or White |
| Flash Colour | Red or White |
| Sounder Type | Type A |
| Boxed Weight | Shallow - 0.22 kg; Deep - 0.25 kg |
| | |
| --- | --- |
| 4107-1101 | VXB-VC White Flash Shallow White Body |
| 4107-1102 | VXB-VC White Flash Deep White Body |
| 4107-1103 | VXB-VC Red Flash Shallow White Body |
| 4107-1104 | VXB-VC Red Flash Deep White Body |
| 4107-1105 | VXB-VC Red Flash Shallow Red Body |
| 4107-1106 | VXB-VC Red Flash Deep Red Body |
| 4107-1107 | VXB-VC White Flash Shallow Red Body |
| 4107-1108 | VXB-VC White Flash Deep Red Body |