ZoneSense PLUS Conventional Fire Alarm Control Panel AS4428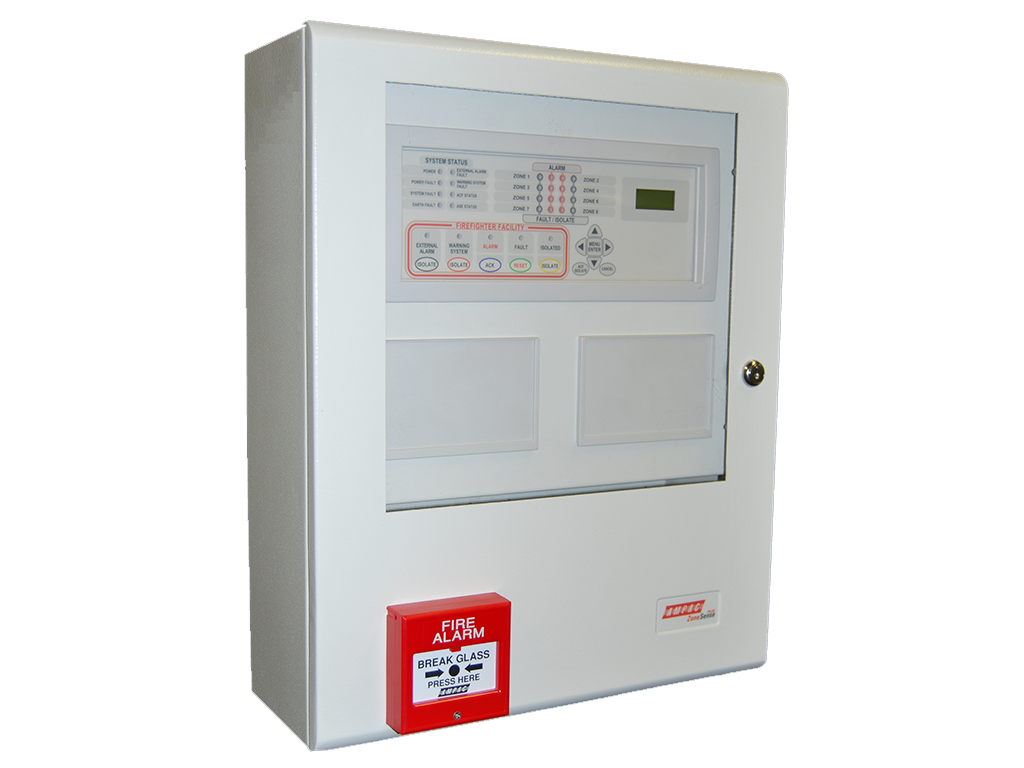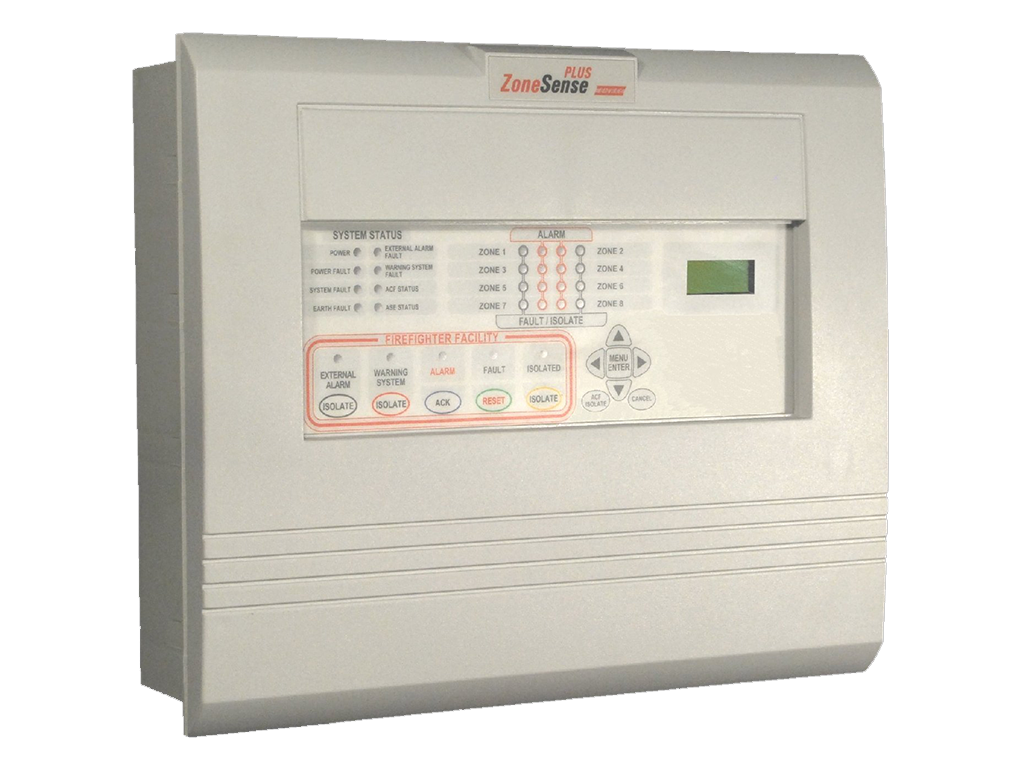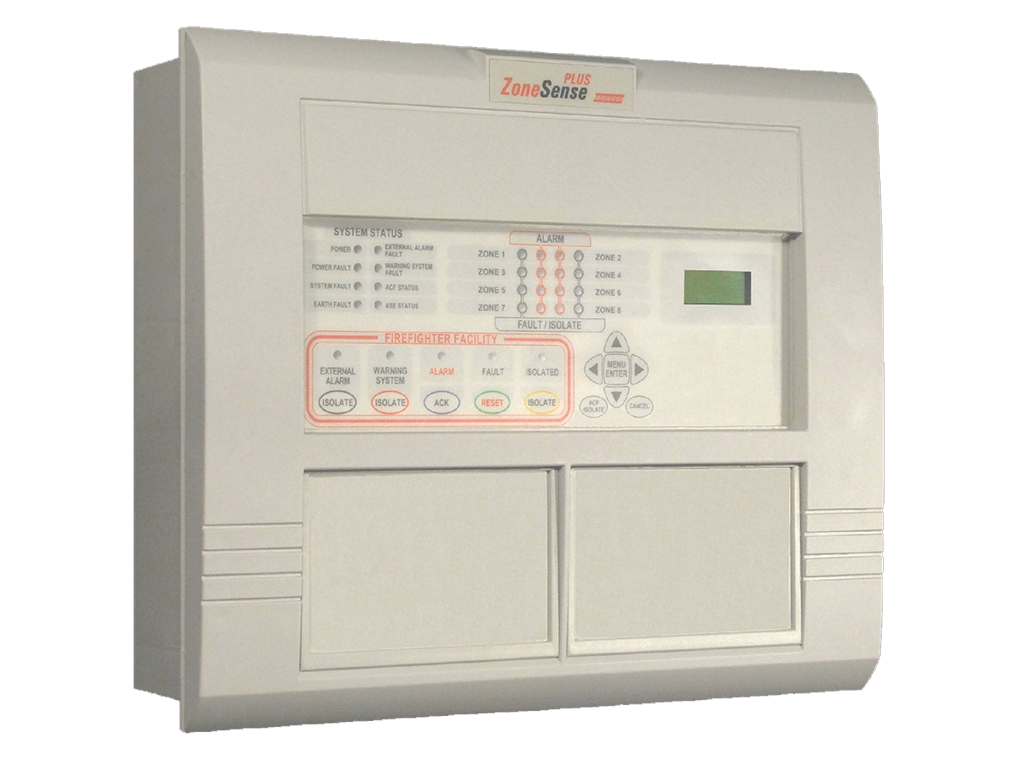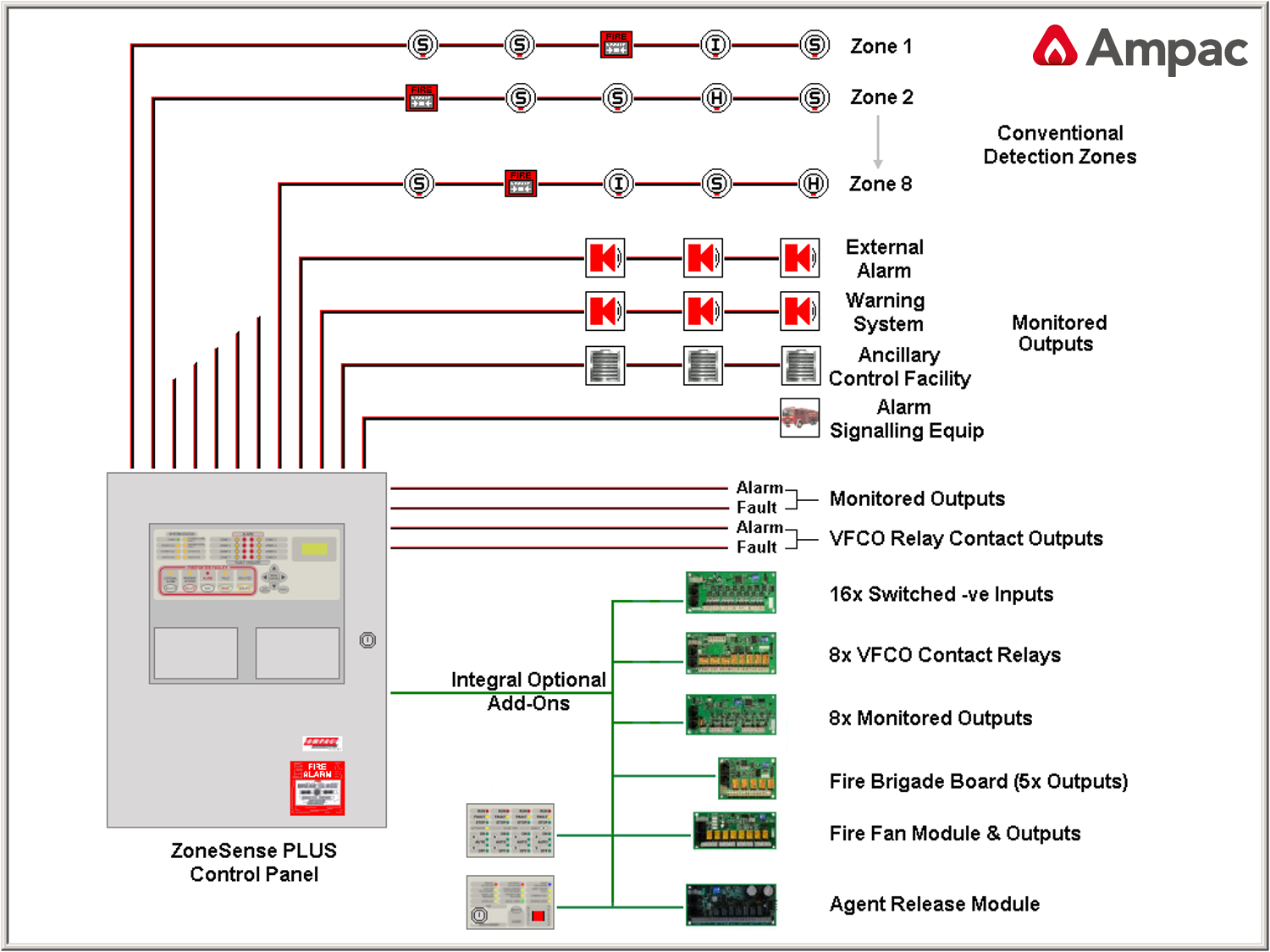 The ZoneSense PLUS Fire Alarm Control Panel is a versatile four or eight zone conventional panel. The user-friendly navigation system provides simple operation during an emergency while also enabling complex cause and effect programming to be undertaken.
A range of modular panel Add Ons allows the panel to be professionally tailored to the requirements of each installation. This means small conventional panels can now be used in a wider range of applications.
Available in 4 Zone or 8 Zone Panels.
Up to 40 Conventional detectors per zone.
RS485 port supports a range of Add-on modules.
Available in ABS (BX1) and Metal (BX20) cabinet versions.
Approvals: AS 4428.1-1998, AS 4214-2002 and AS/NZS 1668.1:1998

Detection Zones
Four (4) or Eight (8) x 2-wire monitored system
Detectors per Zone Circuit
40 (max)
Monitored Outputs
4 x  500 mA @ 27Vdc for EXT Bell, Warning Sys, ACF & ASE
Relay Outputs
1 x VFCO rated 1A @ 30Vdc (Fire)
1 x VFCO rated 1A @ 30Vdc (Fault)
Power Supply
2A Standard, 3A if OWS50 fitted
Battery Space
2 x 12Ahr (SP1X no Add-ons fitted)
Dimensions
H 505mm x W 405mm x D 150mm (SP1X)
IP Rating
IP30 (Metal)
| | |
| --- | --- |
| 2550-1100 | 4 Zone ABS (BX1) |
| 2550-1200 | 8 Zone ABS (BX1) |
| 2550-2100 | 4 Zone ABS (BX1) with Windows |
| 2550-2200 | 8 Zone ABS (BX1) with Windows |
| ENC1851-A | ABS Joiner Moulding |
| 2510-9001 | Ancillary Cabinet ABS (BX1) |
| 2553-0410 | 4 Zone Metal (SP1X) |
| 2553-0410-1100 | 4 Zone OSW25W Metal (SP1X) |
| 2553-0410-1200 |  4 Zone OSW50W Metal (SP1X) |
| 2553-0810 | 8 Zone Metal (SP1X) |
| 2553-0810-1100 | 8 Zone OSW25W Metal (SP1X) |
| 2553-0810-1200 | 8 Zone OSW50W Metal (SP1X) |
| 4210-0040 | Battery/Ancillary Cabinet |
| 4210-0042 | Surround for SP1X Cabinet |
| 4210-0043 |  Surround for Combined SP1X Cab & Battery Box |
| 2553-0400 | 4 Zone Combo Rack Mount |
| 2553-0800 | 8 Zone Combo Rack Mount |