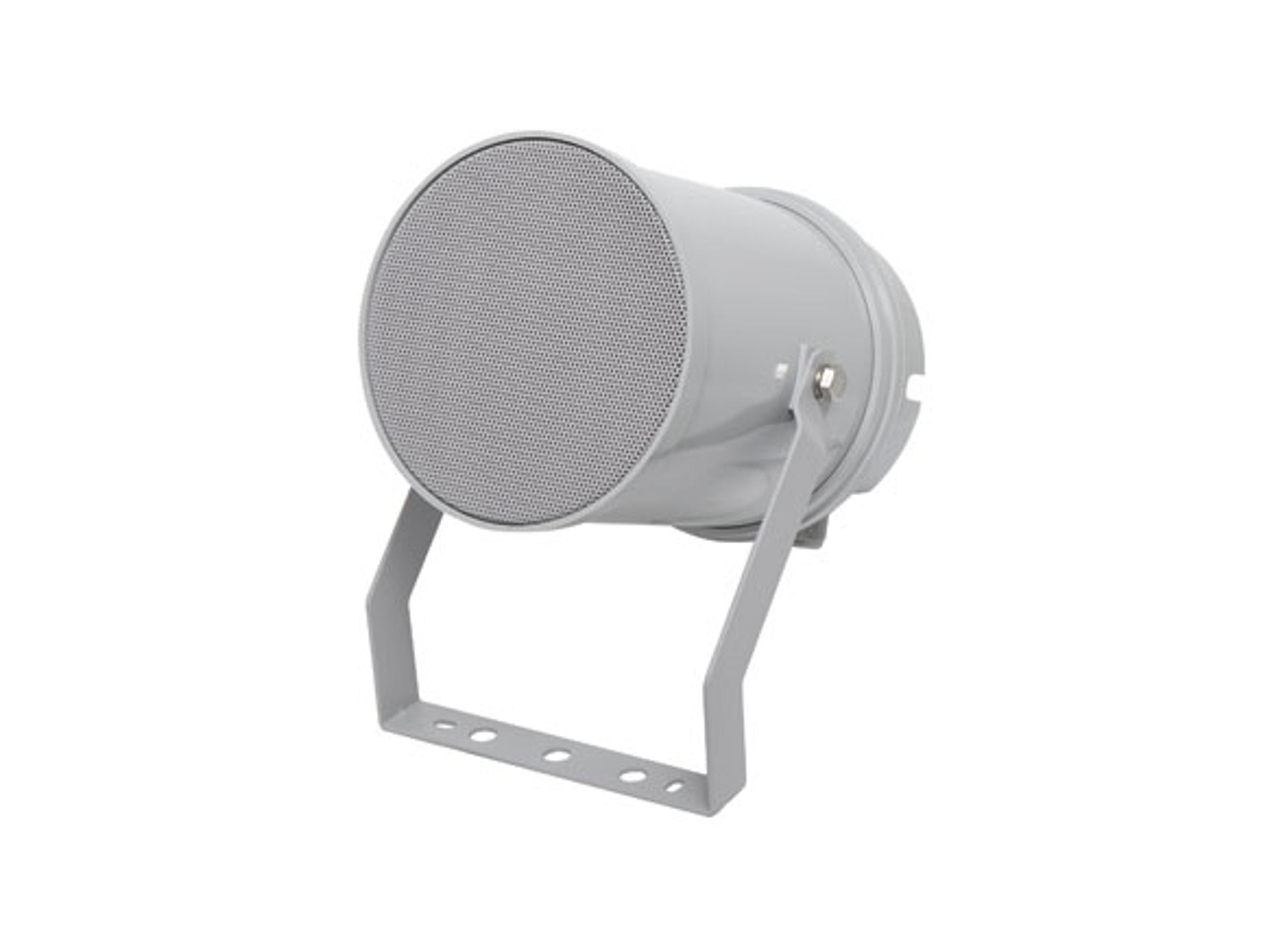 The Sound Projector Speaker is certified to the AS ISO7240.24 standard for fire & evacuation announcements in buildings.
Typical applications include schools, train and bus stations, airports, car parks and plant rooms.
Key Features:
High degree of speech articulation.
Reduced installation time.
No external frequency equalisation required.
Available in grey, black and white.
Approvals: AS ISO7240.24

| | |
| --- | --- |
| Rated Noise Power | 10 Watts (100V line) |
| Power Taps & Impedance (100V line)  | 1.25W (8kΩ), 2.5W (4kΩ), 5W (2kΩ), 7.5W (1.33kΩ), 10W (1kΩ) |
| Sensitivity | 93dB (1W @ 1m), 81dB (1W @ 4m) |
| Maximum Sound Pressure Level | 100dB (10W @ 1m), 88dB (10W @ 4m) |
| Frequency Response | 100Hz - 15kHz, 100Hz - 8kHz ±5dB |
| Coverage Angle (6dB) | (-6dB) 500Hz: >180°, 1000Hz: 125°, 2000Hz: 100°, 4000Hz: 65° |
| Environmental Type | B (for outdoor applications as per standard) |
| Speaker Component | Aluminium voice coil former |
| Mounting Depth | 250mm max |
| Mounting Method | Wall bracket with mounting holes |
| Line Monitoring | Yes, 22μF bipolar capacitor |
| Application Cable | 2.5mm2 (14AWG) max conductor area |
| Connection | 4 way screw terminal |
| Finish | Flame retardant ABS (Absolac 300 MFR) |
| IP Rating | IP66 |
| Dimensions | 145Ø x 250Dmm |
| Weight | 1.4kg |
| | |
| --- | --- |
| 4113-1040 | Sound Projector 10W Grey |
| 4113-1041 | Sound Projector 10W Black |
| 4113-1042 | Sound Projector 10W White |