MultiAmp Door Holder Supply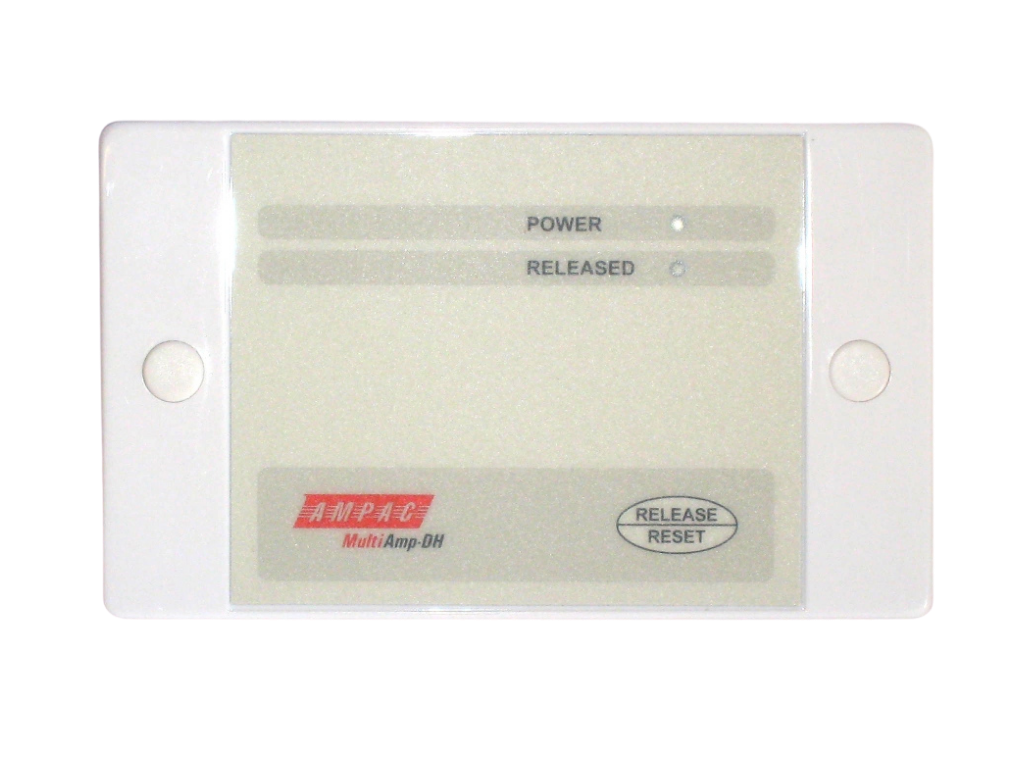 The MultiAmp-DH Door Holder Supply (DHS) provides up to 250mA of current at 24 VDC to operate door holders. The unit can operate as an "Automatic Door Release System" (ADRS) or respond to a secondary control.
When configured as an ADRS, conventional detectors are installed and connected directly to the DHS. The detection circuit is monitored for alarm, open, or short circuit conditions. The presence of any one of these conditions will deactivate supply to the door holders and cause doors to be released.
Alternatively, doors may be released by a switched VDC input to the DHS, derived normally from a Fire Alarm Control Panel (FACP) or security system. The switched VDC input must be between 8 to 30VDC to release the doors.
Mains Powered.
250mA Door Holder Current.
Onboard Conventional Detection Zone.
Release / Reset Switch on Front Panel.
Power Supply
Mains Supply Voltage
230 VAC +/- 10% @ 47-63Hz
Door Holder Output Voltage
24 VDC @ 250mA
Operating Temperature
-5° to +45° C
Relative Humidity
25% to 95%
Zone Detection Circuit
No of Zones
1 (one), 2-wire system
Zone Monitoring
Open and short-circuit
Zone Current Load
4.8mA max
EOL Value
3k3 ohm
No of detectors/circuit
 40 (Max)
Input
Switched VDC Input

Inactive state: 0 to 2 VDC / Active state: 8 to 30 VDC

Mechanical
Material
High Impact ABS
Finish
White
Dimension - Recessed
91mm H X 149mm W x 40mm D
Dimension - Surface
91mm H X 149mm W x 53mm D
Weight
400 grams packed
| | |
| --- | --- |
| 4510-1100 | MultiAmp-DH Flush Mount |
| 4510-1101 | MultiAmp-DH Surface Mount |