Ampac Input Output Interfaces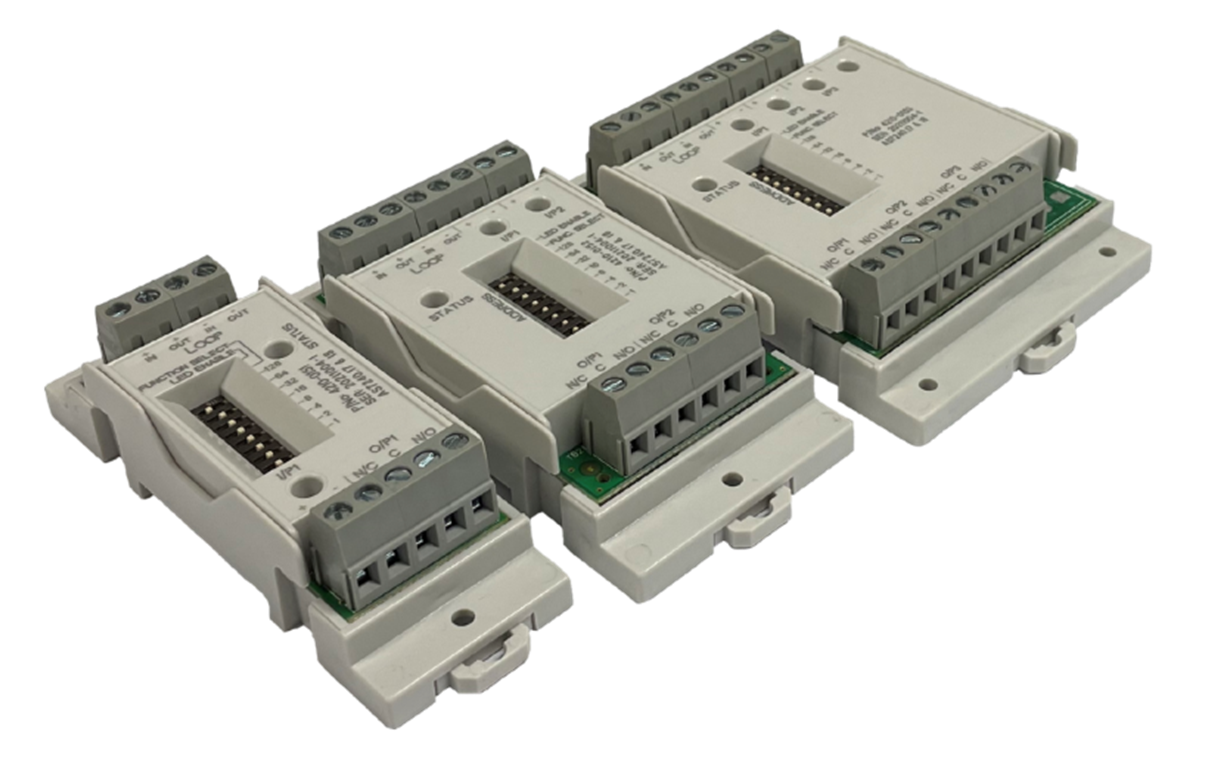 Ampac's extensive range of Input Output Interface devices are designed to control and monitor third party equipment connected to fire detection and alarm systems. The monitored input provides supervision for one or more normally open contacts connected to a single pair of cables and a relay output contact is provided to control the operation of plant equipment.
The input is monitored for both short and open circuit conditions, and is protected against accidental connection to the detection loop. The input circuit is conditioned with de-bounce circuitry for enhanced noise rejection and is protected against high transient voltages.
The output incorporates a single pole, voltage free clean contact changeover relay with common, normally open and normally closed terminals provided for field cabling.
The Ampac Input Output Interface device is loop powered and incorporates bi directional isolation circuitry to provide protection against detection loop short circuits. On board LED status indication is provided for service and commissioning purposes, a feature that can be deactivated during normal operation to reduce the current draw on the system.
Three interface device variants are available, the Single Input/Output, Dual Input/Output and the Triple Input/Output, each with 3mm screw fixing (supplied) or provision for 35mm DIN rail mount fixings.
The EOL Device comprising 20K EOL resistor and 4K7 Alarm initiating resistor is included with each Input/Output interface device. A 10K resister (not supplied) can also be placed in parallel with the EOL and will initiate a Pre-alarm at the control panel.
A 10-way DIP switch is provided to set the device address, loop protocol and LED control.
Loop Powered
Monitored Input
Built in Short Circuit Isolator
DIN Rail Mounting
Diagnostic LED Indications
Compatible with FireFinder Plus & LoopSense
Clean Contact Relay Output
Activfire Certified

Description
Single Input/Output Interface Device
Dual Input/Output Interface Device
Triple Input/Output Interface Device
Item No. 
4210-0151
4210-0152
4210-0153
Operating Voltage
17 to 28V dc (nominal voltage 27Vdc)
Quiescent current @ 27Vdc
0.42mA
0.58mA
0.66mA
Power-up surge current
5.34mA
5.61mA
5.97mA
Max current LEDs On
3.00mA
4.42mA
6.10mA
Max Current LEDs disabled
1.61mA
2.42mA
3.07mA
Relay output contact rating
1A at 30V dc or ac
Operating Temperature
- 40°C + 70°C
Humidity 
0 to 95% RH (no condensation or icing)
Weight
40g
55g
76g
Standards & Approvals
AS ISO 7240.17:2021 and AS ISO 7240.18:2018 - Activfire certificate # afp-3690
| | |
| --- | --- |
| 4210-0151 | Single Input Output Interface Device |
| 4210-0152 | Dual Input Output Interface Device |
| 4210-0153 | Triple Input Output Interface Device |
| 4210-0034 | ABS Interface Enclosure |
| 4210-0035 | Mild Steel Interface Enclosure |
| 4210-0159 | Fire Alarm Interface Label for 4210-0035 |