FastSense Aspirating Detectors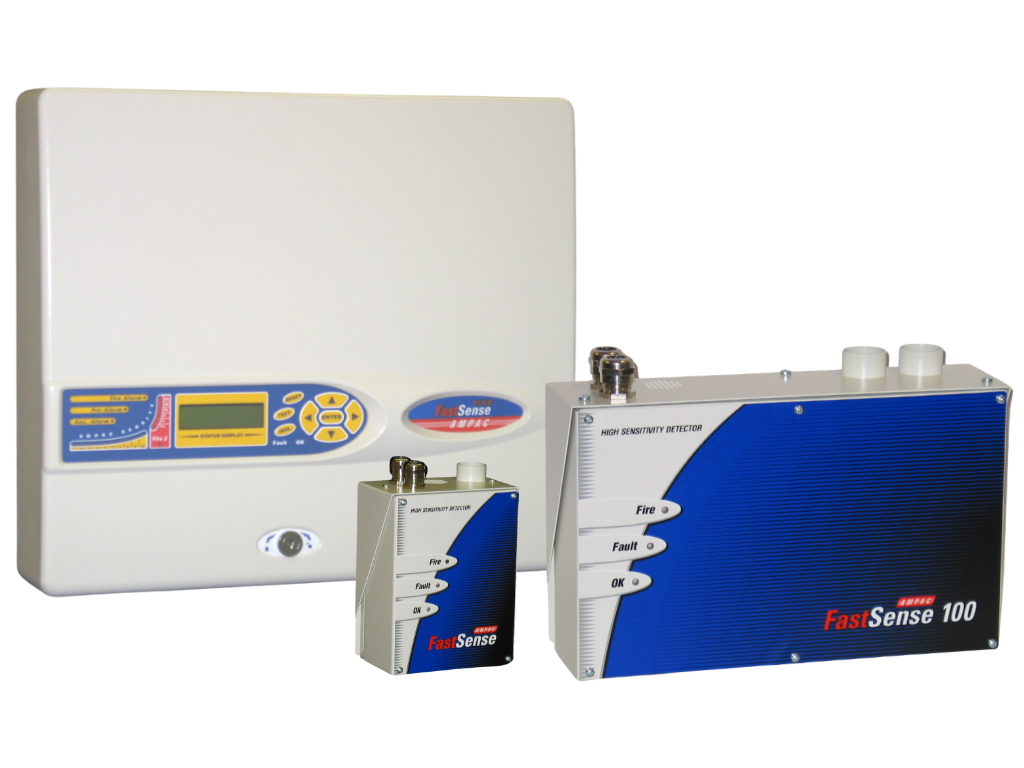 The FastSense detector range is based on an aspirating system, incorporating patented artificial intelligence known as ClassiFire. The detector adopts a laser-based technology making it extremely sensitive, thus providing the earliest warning to the slightest traces of smoke.
Advanced Laser Technology
ClassiFire Artificial Intelligence software
In-built bar-graph and smoke level display; and programming (Available only with the FastSense PLUS)
PC based remote software
Remote Display Unit (RDU)
SenseNet graphical display and control
PipeCalculator installation design software
Extensive range of fittings.
Approvals: AS 1603.8

| | | | |
| --- | --- | --- | --- |
| Models | 25 | 100 | PLUS |
| Voltage | 27 V DC | 27 V DC | 27 V DC |
| Quiescent Current | 250 mA | 400 mA | 400 mA |
| Sensitivity Min | 25% | 25% | 25% |
| Sensitivity Max | 0.03% | 0.03% | 0.03% |
| Pipe Length Max | 25m | 100m | 200m |
| Operating Temperature | -10°C to +60°C | -10°C to +60°C | -10°C to +60°C |
| Dimensions | H 215mm x W140mm x D 85mm | H 220mm x W 300mm x D 90mm | H 372mm x W 427mm x D 95mm |
| Weight | 1.7 kg | 3.8 kg | 5.2 kg |
| | |
| --- | --- |
| 230-0001 | FastSense 25 detector & docking station |
| 230-0002 | FastSense 100 detector & docking station |
| 230-0011 | FastSense PLUS detector |
| 230-0012 | FastSense PLUS detector + command module |