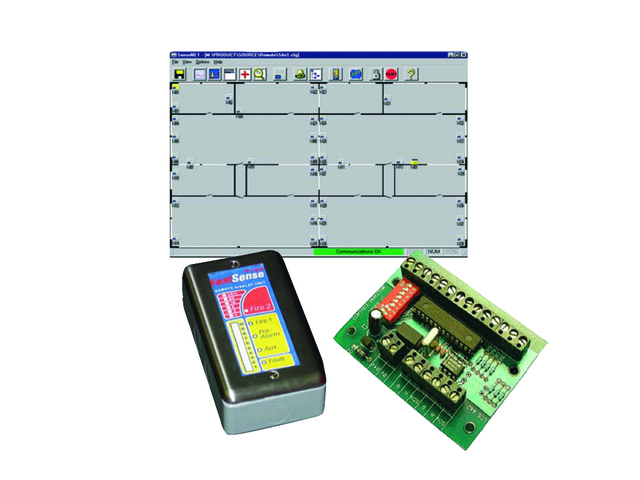 SenseNET is a Windows based program that provides central management and monitoring of up to 126 detectors. The computer running the SenseNET program can communicate with a network of FastSense detectors, via a SenseNET control unit or Command Module.
While the SenseNET control unit is an external desk-top stand-alone device that provides the interface between the computer and the network of FastSense detectors, the Command Module is normally installed in a specific FastSense detector. This nominated FastSense detector will also be featured with a larger LCD display to facilitate menu navigation.
The SenseNET graphics displays maps, produces warning sounds and spoken instruction message which may be unique to each detector. Detectors may be grouped together in zones, and represented by a zone map thus allowing alarms and faults to be quickly and easily located.
SenseNET has the ability to scan all detectors on the communications bus and read configuration settings. This feature is called SiteScanTM.  To facilitate installation and commissioning global changes may be executed over the SenseNET communications bus.
Detector to detector communication uses standard RS485 protocol.  Maximum distance between detectors is 1.2 kilometres.
The proprietary SenseNET operates on a dedicated communications bus. Apart from the Control Unit and Command Module, other devices can also operate and communicate on this communications bus. These devices include:
Contact Monitor – Ideal for alarm and fault status of third party products to be monitored. The Contact Monitor can accommodate four (4 ) alarm, fault and two (2) additional inputs.
Remote Display Unit (RDU) – The bar graph (10 levels) and smoke levels (6 levels expressed as obscuration/ metre) of a FastSense detector can be remotely displayed using the RDU. Fire, Pre-Alarm, Auxiliary and Fault status are also displayed.
| | |
| --- | --- |
| 230-0031 | SenseNET Control Unit c/w Power Supply |
| 230-0032 | SenseNET Contact Monitor |
| 230-0033 | SenseNET Software CD + Dongle |
| 230-0034 | SenseNET Remote Display Unit 19" Board |
| 230-0035 | SenseNET Remote Display Relay Board |
| 230-0036 | SenseNET Single RDU Wall Enclosure |