Wagner Titanus Pro-Sens Air Sampling Device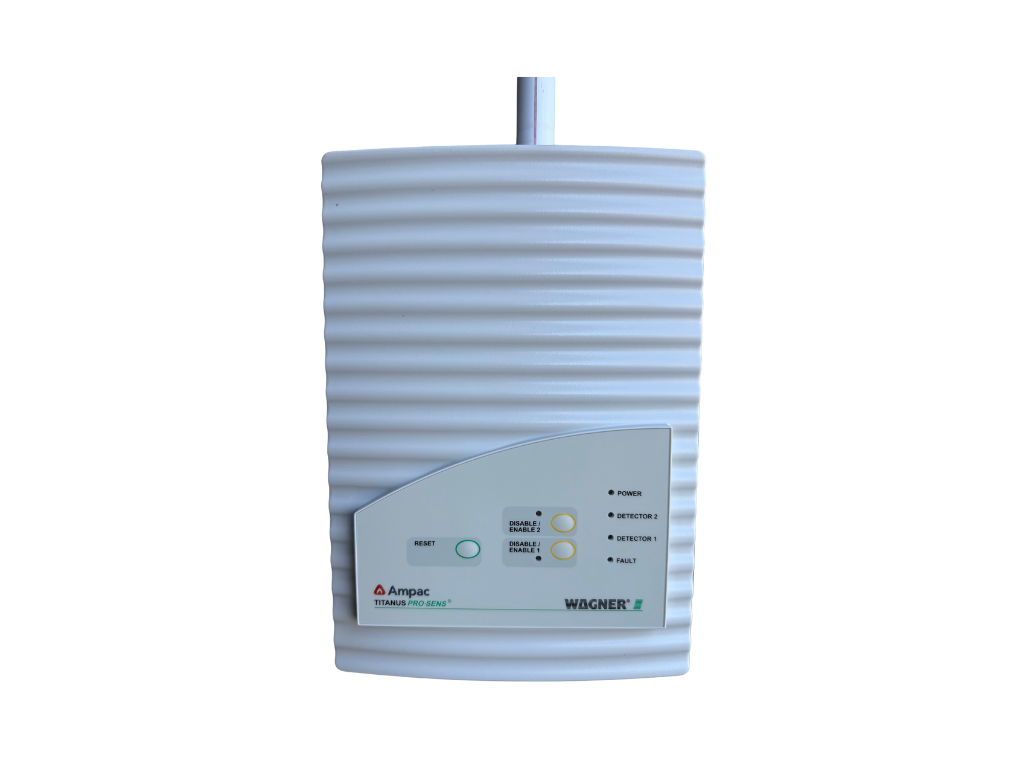 TITANUS PRO•SENS® is a universal air sampling device suitable for a broad range of applications. The high degree of modularity of the device makes it possible to achieve a cost-effective solution customised to suit the specific needs of the customer. An additional price advantage comes with the optional equipping of the device with a second detector module.
The base TITANUS PRO•SENS® unit with 2 detector heads fitted (TITANUS PRO•SENS® 2) can be used for separate zone detection of a room and its equipment, or configured as a double knock tripping system. Each detector is completely separate, with no switching or leak between detection zones.
Robust & Efficient High-Pressure Light Source (HPLS) Detection Technology
LOGIC•SENS Fire Pattern Recognition Technology
Freezer Version Operates in -40Deg to +60DegC with No Heater Boxes Required
A Powerful & Efficient Aspirator Allowing up to 560m of Pipework
A BlowFree System for Programmed or Automated On-Demand Pipe Clearing
Modular Plug-In Detector Heads for a Customised & Cost-Effective Solution & Maintenance
Dual Detector Ability Allows Separate Monitoring & Reporting of Room & Equipment with One Unit
Time-Saving Installation & Commissioning Via Plug & Play Setup
Large Capacity 3-Stage Filters with Selectable 1-15 Micron Ratings
A Large Range of Fittings, Pipework, and Sampling Points
XP95 Interfacing to FireFinderTM and LoopSenseTM Fire Control Panels
FIP Bar Graph Display Module Available & SmartGraphicsHD Display Integration
Cost-Effective Solutions for Every Application Type
Approvals: AS 7240.20-2012

 
TITANUS PRO•SENS®
TITANUS PRO•SENS® 2
Number of Sensor Modules Fitted
1
2
Max. Number of Sampling Holes
32
64
Max. Total Pipe Length Capable
300m*
560m*
Weight
1460 grams
1560 grams
Current – Start-Up Maximum
300mA
320mA
Current - Quiescent (at 24 VDC)
200mA
220mA
Current - Alarm (at 24 VDC)
210mA
240mA
Tapered Pipe Connectors
1x25mm
2x25mm
Operating Voltage
24VDC (14-30 VDC)
Detector Dimensions
200mm W x 292mm H x 113mm D
Housing Colour
RAL 9018, Papyrus White
| | |
| --- | --- |
| 7010-1000 | ProSens Base Unit-APID |
| 7010-1010 | ProSens Base Unit-CLI |
| 7010-1020 | ProSens Base Unit- OEM |
| 7010-1100 | ProSens- 40 Base Unit- APID |
| 7010-1110 | ProSens-40 Base Unit- CLI |
| 7010-1120 | ProSens-40 Base Unit- OEM |