XP95 Intrinsically Safe Addressable Optical Smoke Detector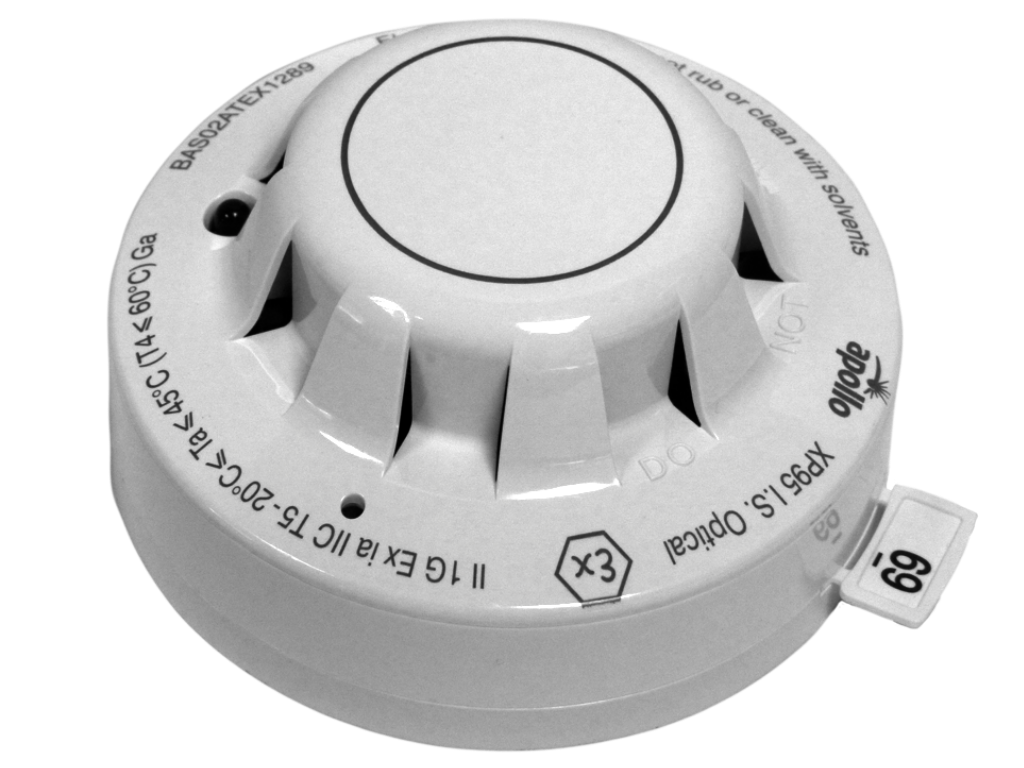 The XP95 Intrinsically Safe Optical Smoke Detector works using the light scatter principle and is ideal for applications where slow-burning or smouldering fires are likely. The detector continuously monitors the environment for the contamination of clean air by smoke particles. This facilitates early warning of incipient fires.
The optical arrangement inside the detector uses an internal pulsing LED together with a photo-diode which is located at an obtuse angle. In normal clear air conditions, the photo-diode in the detector receives no light from the LED and produces a corresponding signal. The signal increases when smoke enters the chamber and light is scattered onto the photo-diode. The signal is processed by the electronic circuitry and transmitted to the main fire control equipment via the detection loop circuit.
As with all detectors in the XP95 range, The XP95 Intrinsically Safe Optical Detector is used in conjunction with the XP95 Intrinsically Safe Detector Base which incorporates the unique XPERT card that is used to configure the address of the detector.
Responds well to slow-burning, smouldering fires.
Well suited for escape routes.
Unaffected by wind or atmospheric pressure.
Alarm flag for fast alarm reporting.
Insect-resistant.
Electronics-free base.
Easy installation.
Classification: E Ex ia IIC T5 (T4 at Ta ² 60°C)
BASEEFA Certificate Number: BAS02ATEX1289
| | |
| --- | --- |
| Voltage | 14-22 VDC |
| Quiescent Current | 340µA |
| Operating Temperature | -20°C to +60°C (no icing) / -20°C to +40°C (T5) / -20°C to +60°C (T4) |
| Relative Humidity | 0 to 95% (non condensing) |
| IP Rating | IP23D (indoor use) |
| Size (inc base) | 100mm Dia x 50mm H |
| Weight (inc base) | 157 grams |
| | |
| --- | --- |
| 201-0104 | XP95 I.S. Optical Smoke Detector |