The Rendezvous Hotel Perth
Ampac protects the 17 story luxury Rendezvous Hotel in Scarborough Perth.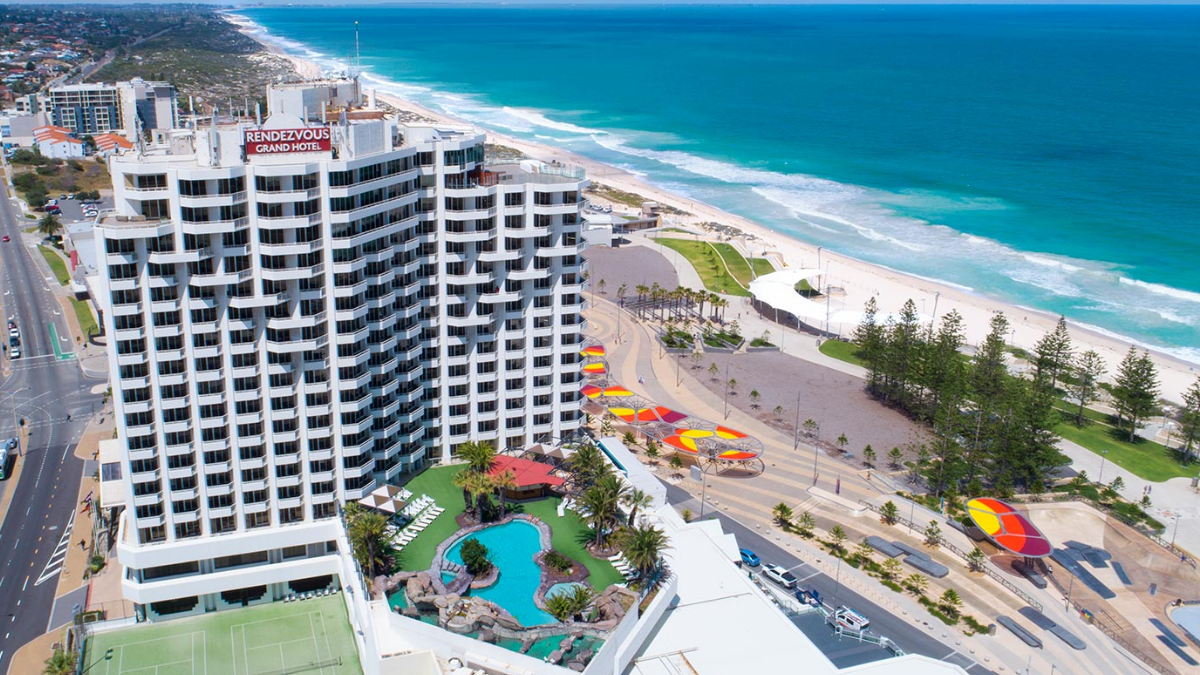 This iconic beach hotel overlooking the pristine Scarborough beach and sparkling blue water of the Indian Ocean has been a destination for many years for tourists and locals alike. A fresh transformation of the hotel has provided for new conference and meeting rooms, plus the refurbishment of the accommodation guest suites and rooms. This redevelopment will bring the hotel forward into the 21st century and make it a world-class destination within Western Australia.
The fire detection system is comprised of 16 conventional zones and 14 analogue/addressable loops compatible with the XP95/Discovery range of detectors spread across two controllers. 36 fan controls installed to operate the fire fans via addressable interfaces as per AS1668. A sub-indicator panel is networked via RS485. All of which is powered by an 18A power supply and battery-backed according to AS1670.1. The emergency warning system is comprised of 17x 40W amplifiers to provide the functionality of public address and emergency tones for the orderly evacuation of the building. 18 warden intercom phones are also used to facilitate the evacuation procedure. 20 visual alarm outputs are provided for areas of high noise or disabilities. All of which is powered by the 15A power supply and battery-backed according to AS1670.4.
One specific challenge that presents itself in a short stay occupancy unit that has cooking facilities is the event that the resident may cause a false alarm event with the fire detection system. This can cause undue distress with other occupants and the unnecessary call out of the fire brigade.
The Discovery Multisensor manages false alarm events succinctly by its unique operation of being able to differentiate between the two distinct characteristics of a fire; Smoke and Heat. The DUAL STAGE™ operation can alert the occupant or building manager of an appending risk through its early detection of smoke; In any event that either heat or no action taken from the smoke event the fire alarm panel can call the brigade.
"Working closely with Ampac we're able to achieve the desired solution and completed the project on time." – Matt Meaden
Image Credit: Rendezvous
Location
Scarborough, Western Australia
Solutions
FireFinder EV3000 Combo