XP95 Addressable DIN-Rail Dual Isolator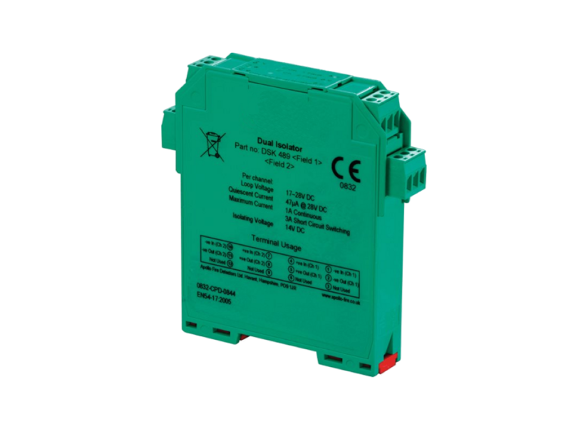 The XP95 DIN-Rail Dual Isolator provides, in one housing, two independent isolators that sense and isolate short-circuits on XP95 loops and spurs.
The isolators are loop-powered and are polarity sensitive. A maximum of twenty XP95 detectors may be installed between isolators.
When a short circuit condition exits on either side of the isolator, its yellow LED is illuminated.
The unit is intended for use in systems using the XP95 or Discovery protocols.
Approvals: AS ISO 7240.17:2015

Maximum Supply Voltage
30 V DC + 9V protocol pulses
Volt Drop
At 50mA
10 m V
At 500mA
100 m V
Switch-On Voltage
Input 17.5 V, Output 15 V
Switch-On Time (to step), 2kΩ load at 18V
30mS
Isolation Time, 2kΩ load at 18V
20μS
Isolating Voltage
14 V DC
Isolation Indicator
Yellow LED, lit continuously in isolation condition
Current Consumption
At 18V
27μA
At 28V
47μA
At 18V and Adjacent Sector Isolated
4mA
Maximum Line Current
Non-Isolating Continuous
1.0A
Transition into Isolation
3.0A
On-Resistance
0.2Ω
EMC
Emission
To BS EN 50081-1
Immunity
To BS EN 50130-4
Operating Temperature
-20°C to +60°C
Storing Temperature
-30°C to +80°C
Relative Humidity
0% - 95% (No Condensation / Icing)
Design Environment
Indoor Use Only
Dimensions
100 x 107 x 20mm
Weight
90 grams
| | |
| --- | --- |
| 201-0145 | DIN Rail Mount Isolator |